ECC Fasteners Reference Guide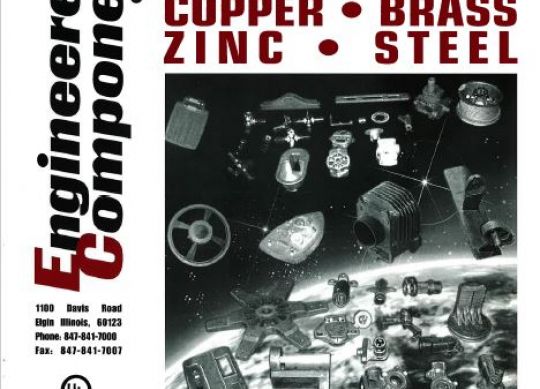 Engineered Components Company or ECC, is a privately-owned fastener supplier and distributor of standard and per print specialty fasteners. We also distribute a wide assortment of additional components that are utilized by original equipment manufacturers worldwide. Founded in 1983, ECC has continued to grow in the areas of technology, market share, and acquisition thanks to our highly trained and tenured staff.
We are proud members of the Mid-West Fastener Association, The National Association of Trailer Manufacturers, and The North American Trailer Dealers Association. We are also authorized distributors for Stanley Engineered Fastening, Pop Avdel, Huck, Marson, Southco, Camcar, Olympic Fastenings Systems, TRW, Tinnerman Palnut, Heyco, Camtainer, ITW Fastex, Gesipa, Torx, Infasco, AVK, Securit, ITW Buildex, and Arconic. In addition to our associations and distribution channels, we also hold several patents, such as: low profile encapsulated t-nuts and mating screws, encapsulated rib neck t-nuts and mating screws, encapsulated barbed t-nuts and mating screws, specialty floor screws, and replacement floor screws.
Finding the correct fastener for your project can be a pain, but with ECC, you can simply browse our reference catalog to find the product listing you need. With two separate options through the IFI (Industrial Fastener Institute) standards book, you can choose to peruse the online specification guide to browse each category or go directly to the product listing itself. These guides primary functions are to assist you in the selection and purchase of commercial fasteners by showing the standards for each fastener category. With the wide variety of options for each project, we understand your need for ease and convenience early in the process. With our website, we provide you with the information you need right away, making your selection process more streamlined and to the point!
Within our guide you can find specifications and brands for anchors, black oxide fasteners, black zinc fasteners, bolts, brushings, metric fasteners, military hardware, nuts, nylon fasteners, pins, clips, bits, hooks, tools, retaining rings, rivets, screws, sealants and adhesives, spacers, standoffs, electronic hardware, stainless steel, studs (clinch and continuous thread), washers, weld screws and nuts, and yellow zinc fasteners. We provide and maintain these accurate, up-to-date listings of our product's technical data to ensure that our customers always have access to that hard-to-find information on the tools they desire before purchase.
For our custom catalog, download it here, or contact us for a printed copy by filling out the form on our contact page.