We Double-Check it all with our Quality Control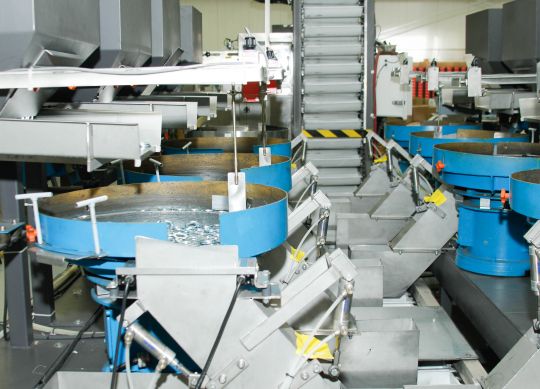 Engineered Components is dedicated to enforcing the strictest quality control for our fasteners and that is one of the reasons why our products are the best around. ISO 9001:2008 certified and exceeding ASTM and IFI standards, our products are tested to ensure durability, longevity, and quality. With our own in-house testing equipment, we are committed to going the extra mile so that our customers can be confident in the quality of our products.
X-Ray Fluorescence (XRF) Analyzer for Coating Thickness Measurement, Elemental Analysis, and Solution Analysis
XRF is used to analyze coating thickness of metallic coating over any metallic or non-metallic substrate. For alloy analysis, XRF determines the composition percentage for each alloying element and identifies the alloy grade number designation. For solutions analysis, metal ions in solution can be quantified in plating baths for process control. The XRF is a non-contact, coating thickness measurement method for very thin multi-layer alloy coatings on small parts and complex shapes.
Benchtop pH/mV Meter with 0.01 Resolution – HI2211
The double junction and HT glass design allows the HI1131B to be used in a variety of applications, from samples with metals and Tris buffer, to samples at elevated temperatures. The mV mode is useful in checking the offset and slope of the pH electrode. Understanding and analyzing the offset and slope characteristics is pertinent in knowing if the probe is working correctly.
Image Dimension Measuring System
By placing a target on the measuring area, anyone can measure anything from inner diameters, circular pitches and angles to complex shapes. All of these used to be much more difficult to measure with previous conventional methods but can now be measured with ease and accuracy. With sub-pixel measurement accuracy, KEYENCE's original image processing makes it possible to detect edge positions more accurately due to the subpixel processing (0.01 pixel).
Accelerated Weathering Tester
The QUV accelerated weathering tester reproduces the damage caused by sunlight, rain, and dew. In a few days or weeks, the QUV UV tester can reproduce the damage that occurs over months or years outdoors. To simulate outdoor weathering, the QUV accelerated tester exposes materials to alternating cycles of UV light and moisture at controlled, elevated temperatures. It simulates the effects of sunlight using special fluorescent UV lamps. It simulates dew and rain with condensing humidity and/or water spray.
Salt Spray Testing
Salt Fog, CASS, Corrodkote, Humidity, Corrosion Test Chamber
By using the SCCH salt fog chamber, Engineered Components can create fasteners to withstand humidity and the corrosive elements of nature.
Through our quality controls, Engineered Components creates products that withstand the test of time. Contact us for more information on our in-house testing.